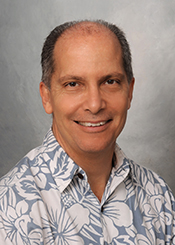 Gerard Livaudais, MD, MPH, FACP
Dr. Livaudais is the Executive Vice President of Population Health and Provider Networks for Hawaii Pacific Health. He oversees Hawaii Health Partners and the overall development and strategic leadership, working to create a new model of care that emphasizes clinical integration and care coordination. A board certified internist, Dr. Livaudais has more than 20 years of experience as an internist, medical manager, medical software professional, clinical leader and health care executive. He received his medical degree from Tulane University School of Medicine, where he also completed a combined internal medicine/pediatric internship and internal medicine residency.

He served as chief resident and then co-director of the residency program before taking on roles as vice president of Medical Affairs at Louisiana Health Care Review (a HCFA Peer Review and Quality Improvement Organization), as well as medical director, board member and other leadership positions at multi-specialty groups (Medford Clinic, Hawaii Permanente Medical Group). Before joining Hawaii Pacific Health, he was the chief medical officer for Quantros, a patient safety and clinical quality software company. He is a member of the American College of Healthcare Executives and a Fellow of the American College of Physicians.