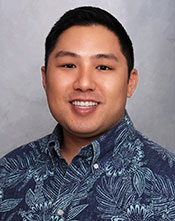 Matthew Sasaki
Matt Sasaki is Vice President of Hawaii Health Partners. Having spent his career in health care, Matt has developed a diverse background in care management, population health, operations, and strategy.
Prior to joining Hawaii Pacific Health, Matt held leadership roles at Hawaii Medical Service Association (HMSA) and ike, Inc. (fka DataHouse Holdings Corp.). During his time at HMSA, Matt served as Assistant Vice President for Government and External Relations, leading HMSA's efforts with county, state and federal stakeholders, and in addition overseeing community engagement, corporate giving, and the HMSA Foundation.
He has also held leadership roles as Director of Ecosystem Development and Operations, and Director of Provider Organization Support Teams. In these positions, he focused on establishing population health programs and initiatives, and supporting independent providers statewide with quality programs and care coordination. He also developed and supported the operation of the company's joint ventures focused on care management and value-based care.
Matt graduated with a bachelor's degree in business administration from Creighton University, and earned an MBA in health care management from Johns Hopkins University.